i wish my life was more eventful.
i tried in every attempt to make it fuller,rich and glorious.
i cherished every second i make an effort.
life with uncertainty is life worth living.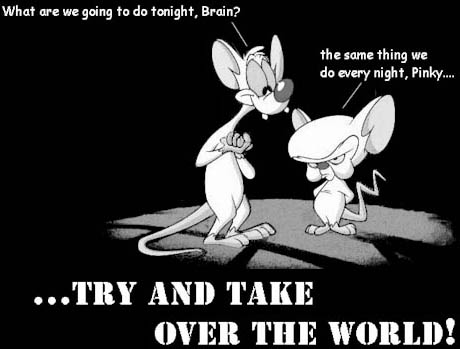 so pinky do you pondering what i pondering?
no brain what is it?
im pondering how to take over the world tonight
dulu aku penuh harapan
kemana hilang harapan itu?
dulu aku banyak impian
impian itu sama layu
bunga rosmerah itu
aku minta dengan pencipta
damai seketika
jawapan diterima
ia disekeliling kita
aku tanya lagi
jauh lagi perjalanan ini?
jawapan diterima
ia tamat bila aku berhenti mencuba
setiap permulaan ada penghujung
persoalannya bagaimana kita mengisi perjalanan
apa jawapannya dalam kesenian?
seni tangan dan fotografi?
hatta grafitti di dinding
aku cuba bersosial
kerana dengan itu melihat banyak akal
ternyata aku ditinggal
aku orang peninggalan
berbohong aku jika kita
tak pernah ketawa bersama
tapi aku nak seat tepi tingkap
tak nak offer kat sapa-sapa
ini kucing pertama ku
namanya Jean Paul Sartre
walau kita tidur sekatil tapi kita renggang
diberi aku segunung buku
aku nak segunung lagi
aku nk simpan misai la pulak
aku nak anak yang lagi comel dari aku
namun takut pula....
i'll be seeing u
keeping touch